Emotional Universal
Berry Street Education Model
Back to Top  or Back to Framework
The Berry Street Education Model (BSEM) is a practical approach to teaching and learning that enables teachers to increase engagement with students with complex, unmet learning needs and successfully improve all students' self-regulation, growth and academic achievement. The pedagogical strategies incorporate evidence-based trauma-aware teaching, positive education, and wellbeing practices.
Please refer to the following link for more information https://www.berrystreet.org.au/learning-and-resources/berry-street-education-model
Body
Back to Top  or Back to Framework
More information can be found in this SharePoint.
Character Strengths
Back to Top  or Back to Framework
To see a visual on character strengths, please click here.
Dogs Connect
Back to Top  or Back to Framework
Dogs Connect is an organisation that helps introduce a wellbeing dog into settings such as schools, hospitals, aged care and justice communities. They work with the school community to design long term, sustainable programs to integrate a Dogs Connect dog. The aim to achieve as many mental health benefits as possible.
Through Dogs Connect the school was lucky to be able to raise and train our Groodle Daisy.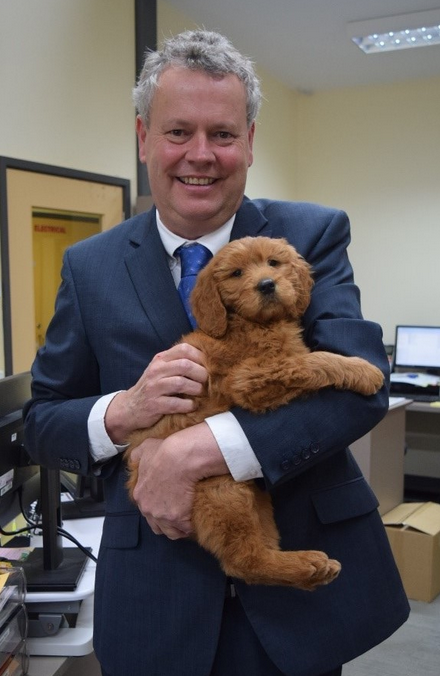 Music Tuition
Back to Top  or Back to Framework
Music tuition in woodwind and brass instruments are provided at MEC through our Instrumental Music teacher. Many students take part in the Australian Music Examination Board exams obtaining first-rate results. Students are also able to take private guitar lessons at the school.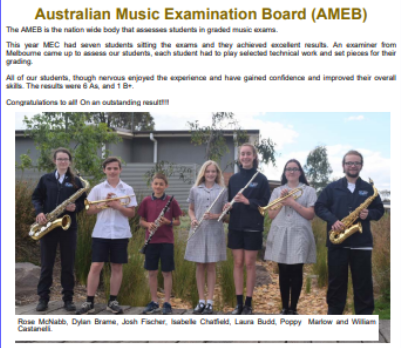 Ready to Learn
Back to Top  or Back to Framework
Ready to Learn is a holistic approach to learning that acknowledges social skills and educational development go hand in hand. One cannot be learnt without the other being taught. Students are assisting to self-regulate and interpret information so they can gain understanding and consolidate their learning. The aim of the Ready to Learn Program is to ensure that students who face are getting the support they need to start the day effectively. Please refer to this link for Ready to Learn Activities.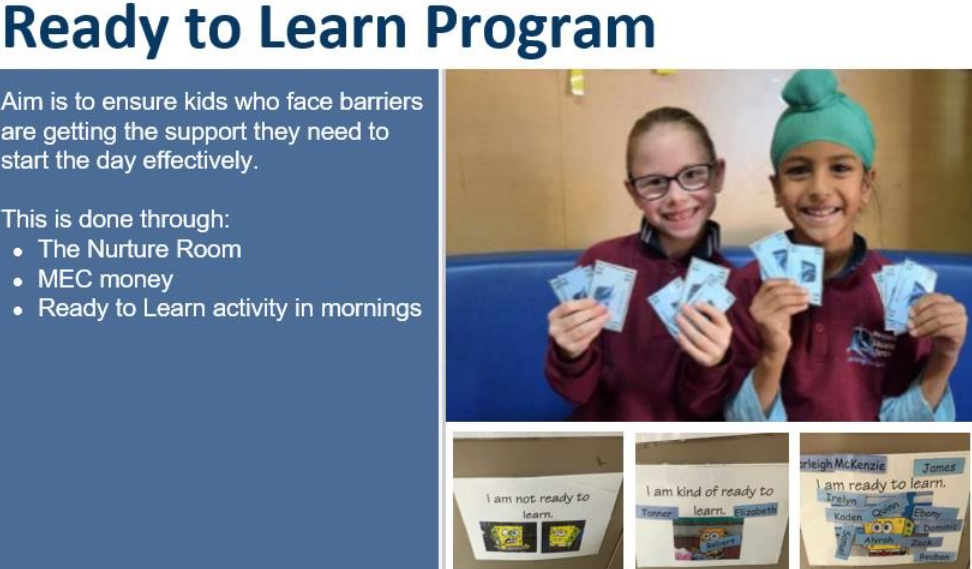 Zones of Regulation
Back to Top  or Back to Framework
​​​​​​​​​The Zones of Regulation is a cognitive-behavioural approach used to teach self-regulation by categorizing all the different ways we feel and states of alertness we experience into four concrete coloured zones.  The Zones framework provides strategies to teach students to become more aware of and independent in controlling their emotions and impulses, manage their sensory needs, and improve their ability to problem solve conflicts.  Please see the Victorian School  
Further information about the Zones can be found here.