Academic Universal
Careers and Tertiary Study Options
Six Plus One Traits of Writing
Berry Street Education Model
Back to Top  or Back to Framework
The Berry Street Education Model (BSEM) is a practical approach to teaching and learning that enables teachers to increase engagement with students with complex, unmet learning needs and successfully improve all students' self-regulation, growth and academic achievement. The pedagogical strategies incorporate evidence-based trauma-aware teaching, positive education, and wellbeing practices. 
Please refer to the following link for more information https://learning.berrystreet.org.au/focus-areas/berry-street-education-model  
Stamina
Back to Top  or Back to Framework
Information on Stamina can be found here.
Engagement
Back to Top  or Back to Framework
The full document can be found here.
Careers and Tertiary Study Options
Back to Top  or Back to Framework
MEC provides careers education and opportunities to all students from years 7 to 12 in alignment with the Victorian Careers Curriculum Framework. This involves all students working on their My Career Portfolio through completing and uploading a range of activities, being encouraged to upload copies of their achievements, resumes, etc. and completing a Career Action Plan each year as they work towards their post-school pathways.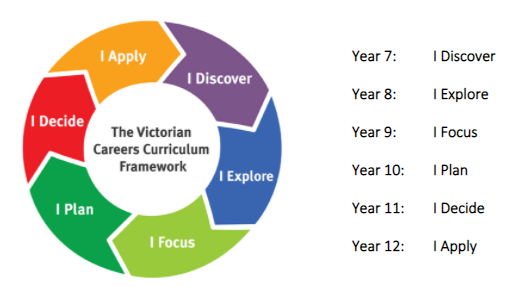 Students are encouraged to visit the Careers Centre if they have any questions. 
Our Careers & Pathways Coordinator is available to all students and parents for support in relation to employment (resumes, cover letters, interview tips), tertiary study options (University, TAFE, apprenticeships & traineeships, scholarships and applications through VTAC (including SEAS).  
MEC students and parents also have access to a huge range of resources and further information through the MEC Careers page.  
Differentiation
Back to Top  or Back to Framework
Differentiated teaching are methods teachers use to extend the knowledge and skills of every student in every class, regardless of their starting point. 
The objective is to lift the performance of all students, including those who are falling behind and those ahead of year level expectations. 
To ensure all students master objectives, effective teachers plan lessons that incorporate adjustments for content, process, and product. 
Further details can be found here.  
FISO Improvement Model
Back to Top  or Back to Framework
The Framework for Improving Student Outcomes (FISO), the continuous improvement framework for all Victorian government schools. FISO has three elements. The first of these is the FISO Model, which provides a common language for school improvement across the Victorian government system. The second element is the FISO Improvement Cycle, which supports schools to focus with greater precision on better outcomes for students by guiding schools through an effective inquiry process. The third element is the FISO Improvement Measures, which include the Differentiated School Performance Method (DSPM). The Improvement Measures inform the school's ongoing monitoring and evaluation of the progress of practice and performance against the goals, targets and key improvement strategies of a school's strategic plan.
Further details can be found here.
FISO Resources
Back to Top  or Back to Framework
The FISO connecting resources model provides links to tools to support education to provide: 
Excellence in Teaching and Learning

 

Community Engagement in Learning

 
Professional Leadership

 

Positive Climate for Learning.

 
Further details can be found here.  
HITS
Back to Top  or Back to Framework
The high impact teaching strategies (HITS) are 10 instructional practices that reliably increase student learning when they're applied. HITS have emerged from the findings of tens of thousands of studies on what has worked in classrooms across Australia and the world. International experts often rank HITS at the top of strategies that contribute to student learning. 
Further details can be found here.  

Pedagogical Model
Back to Top  or Back to Framework
The Pedagogical Model consists of five domains: 
Engage 
Teachers know their students well and engage them in building supportive, inclusive and stimulating learning environments. Teachers motivate and empower students to manage their own learning and develop agency. 
Explore 
Teachers present challenging tasks to support students in generating and investigating questions, gathering relevant information and developing ideas. They help students expand their perspectives and preconceptions, understand learning tasks and prepare to navigate their own learning. 
Explain 
Teachers explicitly teach relevant knowledge, concepts and skills in multiple ways to connect new and existing knowledge. They monitor student progress in learning and provide structured opportunities for practising new skills and developing agency. 
Elaborate 
Teachers challenge students to move from surface to deep learning, building student ability to transfer and generalise their learning. They support students to be reflective, questioning and self-monitoring learners. 
Evaluate 
Teachers use multiple forms of assessment and feedback to help students improve their learning and develop agency. They monitor student progress and analyse data to draw conclusions about the effectiveness of their teaching practices, identify areas for improvement, and address student individual needs. 
Further details can be found here and here.  
Practice Principles
Back to Top  or Back to Framework
The Practice Principles articulate how teachers can deliver the curriculum and engage students. Each Principle is supported by a theory of action that describes how the work of teachers can generate improved student learning over time. It explains the specific changes that can be expected and creates a brief evidence-based synopsis. 
Principle 1: High expectations for every student promote intellectual engagement and self-awareness 
Principle 2: A supportive and productive learning environment promotes inclusion and collaboration 
Principle 3: Student voice, agency and leadership empower students and build school pride 
Principle 4: Curriculum Planning and implementation engages and challenges all students 
Principle 5: Deep learning challenges students to construct and apply new knowledge 
Principle 6: Rigorous assessment practices and feedback inform teaching and learning 
Principle 7: Evidence-based strategies drive professional practise improvement 
Principle 8: Global citizenship is fostered through real-world contexts for learning 
Principle 9: Partnerships with parents and carers enhance student learning 
Further details can be found here.  
VTML
Back to Top  or Back to Framework
The Victorian teaching and learning model brings the framework for improving student outcomes (FISO) into the classroom. It creates a line of sight between the whole-school improvement approach and classroom practice. 
The model allows teachers and school leaders to: 
focus on high impact improvement initiatives

 

drive those initiatives through evidence-based decisions about their teaching and student learning. 

 
It encourages collaboration among principals, school leaders, teachers, students and parents/carers in effective learning communities to improve learning outcomes for students. 
Further information can be found here.  
Six Plus One Traits of Writing
Back to Top  or Back to Framework
The Six plus one Traits is a way of teaching, modelling, and assessing the instruction of writing. The Six Traits of writing are Voice, Ideas, Presentation, Conventions, Organization, Word Choice, and Sentence Fluency. It creates a common vocabulary and guidelines for teachers to use with students so that they become familiar with the terms used in writing. It develops consistency from grade level to grade level.
The Six Traits model allows teachers and students to focus on one or two elements of writing at a time creating a more manageable and effective way for students to learn how to write. It also is a means of providing specific feedback to students through the assessment of their writing. The Six Traits help both the student and teacher identify the areas of writing that the student needs work at improving. Good writing must incorporate the Six Traits. The "Plus One" trait is the presentation of the writing piece. This is the trait that is considered for all writing, but not specifically or directly taught as the other traits are.
Workshop Model
Back to Top  or Back to Framework
The Workshop Model provides a structure for the Gradual Release of Responsibility to be delivered. 
 

I Do

– Modelling 

 

We Do- 

Guided Practice

 
You Do- 

Independent Practice

 
The plan can be found here and below. 

Tutorials
Levelled Literacy Intervention
Back to Top  or Back to Framework
The Tutorial Program offers Levelled Literacy Intervention System (LLI) and Middle Years Literacy Numeracy Support (MYLNS)  for students in intensive, small-group, supplementary literacy intervention for students who find reading and writing difficult. The goal of the program is to:
Advance the literacy learning of students not meeting grade-level expectations in reading
Deepen and expand comprehension with close reading
Elevate the expertise of teachers
Increase reading volume by engaging students in large amounts of successful daily reading
Increase student engagement with books that build knowledge
Intervene with small groups of struggling readers to maximize growth
Meet the needs of struggling readers
Monitor student progress.
Back to Top  or Back to Framework