Musical & Bands
School Band
Students who are interested in learning a musical instrument or playing in the Maryborough Education Centre band are able to receive instrumental music tuition through the school. Students can learn brass (cornet, trumpet, horn, euphonium, tuba and trombone); woodwind (flute, clarinet or saxophone) or percussion (drums). Application forms for participation in the band and instrumental music are distributed through the school early in Term 1 each year.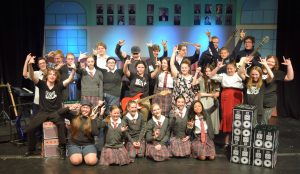 Theatre Productions
Productions (P-6, 7-12 and Specialist) at Maryborough Education Centre continue to build on the successful Performing Arts culture. Every year major musical theatre productions are produced, bringing together all students from across the school.
In 2019, the productions were Cinderella (P-6) and School of Rock (7-12). Specialist held a singing performance in 2019 at the opening of the Café and will do a production every second year. This is in addition to singing groups, MEC Idol competitions, a strong instrumental music program and VCE Drama Performances.